Nasty Juice Modmate 60ml ShortFill | Use Mods, Use Modmate
Nasty Juice Modmate Short Fills are a range of unique and distinct flavours, specifically designed and optimised for use in all leading DTL vaping devices.
Available in a 60ml bottle containing 50ml of eliquid, leaving sufficient space for one 10ml nicotine shot to be added, for a total nicotine strength of 3mg.
Blended with a VG/PG mix of 70/30, these fresh flavours work best with direct to lung, sub-ohm devices and pod mod kits.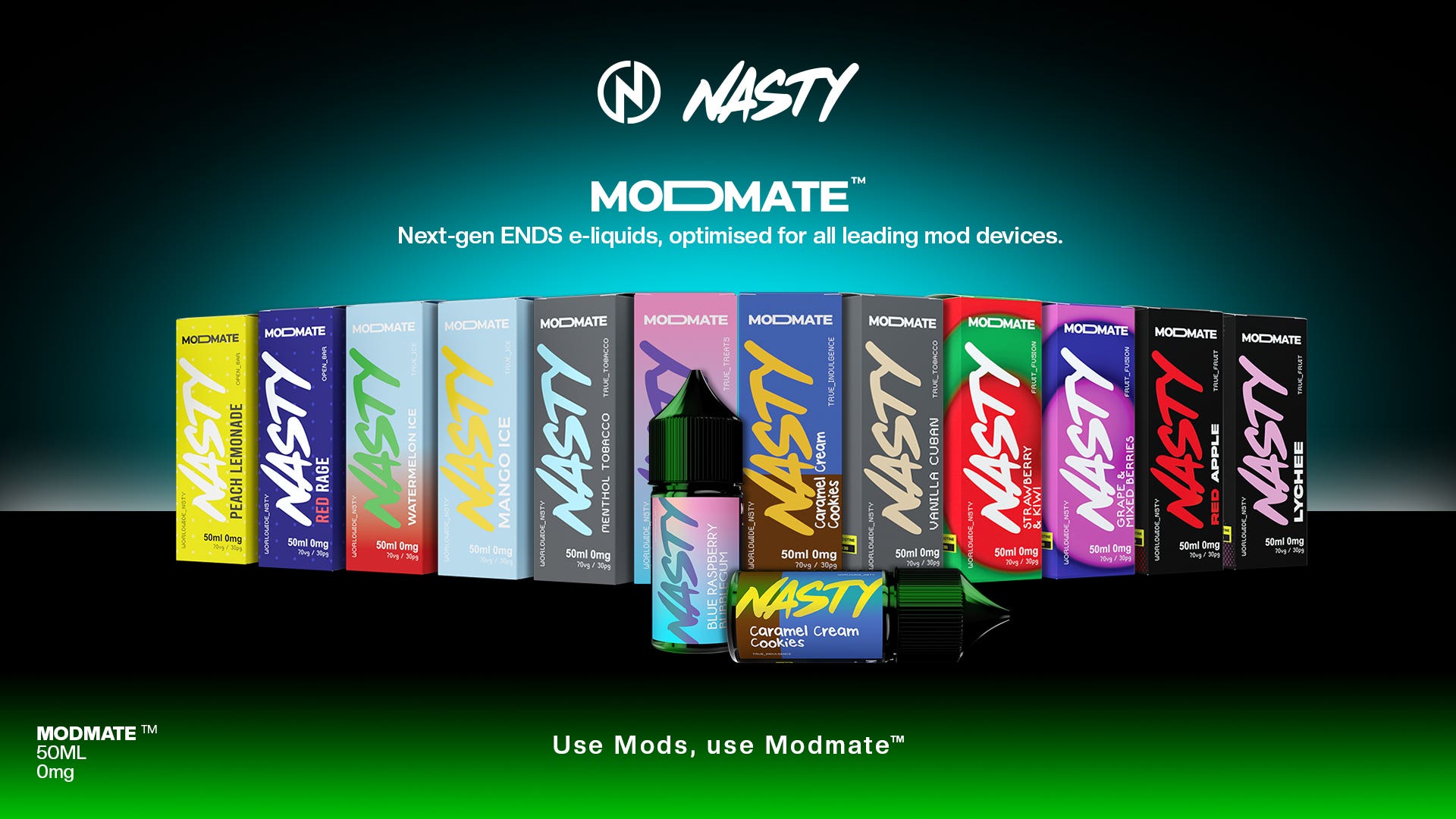 The Nasty ModMate range comes with a 70% VG e-liquid mix. This can be used with higher wattage DTL (direct-to-lung) devices such as mods and sub-ohms so you can produce the best possible vape clouds with rich flavours, including:
Blue Raspberry Raspberry: Nasty ModMate Blue Raspberry Bubblegum is delicious Blue raspberry candy flavour with a hint of Bubblegum. This flavour will make you want more and more.
Caramel Cream Cookies: Nasty ModMate Caramel Cream Cookies is a silky smooth taste of delicious caramelised cream cookies with inhale tasting of cookies and the exhales leaving the sweetness of the caramel and cream in your mouth.
Grape & Mixed Berries: Nasty ModMate Grape Mix Berries is sensational mix of bittersweet dark grapes and tart berries, fusing our award winning flavours together to bring you this Grape Mix Berries flavour.
Lychee: Nasty ModMate Lychee is a Fragrant and well-rounded taste combining the sweet and sourness of a real lychee to give you a perfect lychee vape.
Mango Ice: Nasty ModMate Mango Ice is a cool and refreshing mango flavour that takes like a slushy Mango. Mango Ice is the Perfect vape for a summers day to hit the spot with this refreshing flavour. Mango Ice is Specially Formulated using the Best Ingredients, to deliver the best flavour.
Menthol Tobacco: Nasty ModMate Tobacco Menthol is Tobacco flavour with a nice, cool sensation of menthol with subtle hints of sweetness for the perfect Tobacco and menthol hit
Peach Lemonade: Nasty ModMate Peach Lemonade is a refreshing combination of peach and lemonade. the Inhale is a ripe sweet peach and the exhale is a refreshing lemonade.
Red Apple: Nasty ModMate Red Apple actually Tastes of sweet red apples, fresh from the orchard. The flavour is juicy and has a light crispness to it. overall Red Apple is a delicious vape and is quite refreshing.
Red Rage: Nasty ModMate Red Rage is a classic Energy drink flavour cool and refreshing. it will give your senses a buzz with our specially brewed, mind-blowing flavour.
Strawberry & Kiwi: Nasty ModMate Strawberry Kiwi Salt is a mouth watering sweet, fresh and zingy mix of Strawberry and Kiwis. Tastes amazing on a hot summers day.
Vanilla Cuban: Nasty ModMate Vanilla Cuban is a A rich and flavourful vanilla Cuban cigar with cured tobacco for a creamy sweet finish. This flavour truly lives up to its name is must have for all Tobacco flavour vapers.
Watermelon Ice: Nasty ModMate Watermelon Ice is A refreshing combination of a mouth watering juicy watermelon topped with a dash of icy sensation to create a special flavour for every fruit lover to enjoy!
There is also the Nasty ModMate Premium Menthol Tobacco as well as the Vanilla Cuban flavour blends, which provide the cool sensation of menthol or the luxurious notes of vanilla to complement the familiar tobacco taste.
Made by one of the biggest vape brands in the UK, Nasty Juice blends the finest e-liquid ingredients directly from its base in Malaysia.
All about flavour and fun, Nasty Juice is unafraid to push boundaries and serve vape connoisseurs everywhere.
Each of Nasty Juice's ModMate products comes in a standard 'Chubby Gorilla' bottle fitted with childproof caps.
VG/PG Ratio: 70% VG / 30% PG
Nicotine Strength/s: 0mg (0%)
Bottle Size: 60ml
E-Liquid in Bottle: 50ml
Adding Nicotine Shot: 1 X 18mg makes it 3MG