All Vampire Vape E-Liquid is available in 10ml plastic bottles with a blend ratio of 40/60 VG/PG (excluding 3mg). 3mg is available in 50/50 VG/PG only.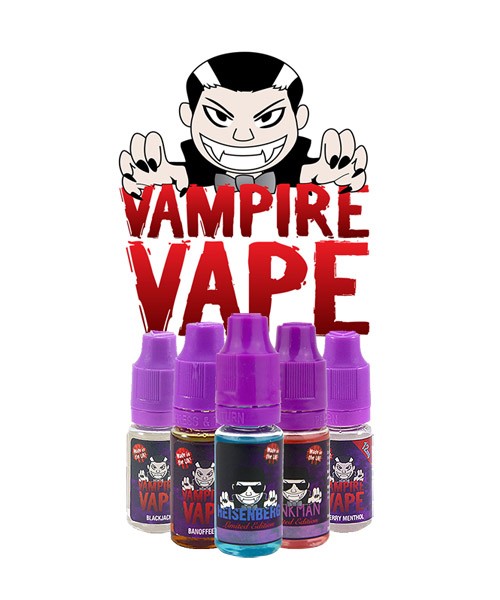 Applelicious: A sweet and sour green apple flavour.
Blackcurrant: A full juicy sweet Blackcurrant flavour just like the Blackcurrant chews
Blackjack: A perfect sweet treat with a retro flavour. It is advised you use a glass tank!
Blueberry: Subtle fruity flavour on its own or great mixed with cool menthol
Bubblegum: A childhood memory of fruity bubblegum that never loses its flavour
Heisenberg: A top secret recipe that can only be described as the daddy of all day vapes. A fruity undertone and a cool crystal after sensation that will leave you wondering what it is… and wanting more.
Ice Menthol: Minty & Cool & Refreshing.
Peardrops: Sweet& tasty with a punch of pear. It is advised you use a glass tank!
Pinkman: A flavour that will make all you fruity vapers wonder why we didn't make this sooner. A mouth-watering fruit explosion on your taste buds is about to erupt!
Strawberry: Sweet summery flavour of the classic strawberry.
Vamp Toes:A twist on the mixed berry juice – Vimto, fruity & delicious – tastes nothing like a vampire's toe!
Watermelon: A sweet and juicy watermelon, a real hard hitting fresh blast.
Parma Violets: Stack 'em up and crunch down on the powdered joy of the traditional Parma Violets flavour.
Red Lips: The real favourite of the pick-n-mix, juicy sweet cherries with a hint o fresh mixed fruits.
Sweet Tobacco: A classic light tobacco flavour with a hint of sweetness.
This item is not suitable for those under the age of 18 , Or Pregnant Women , Or with medical conditions.