SKE Crystal PLUS Prefilled Pods 2pcs/pack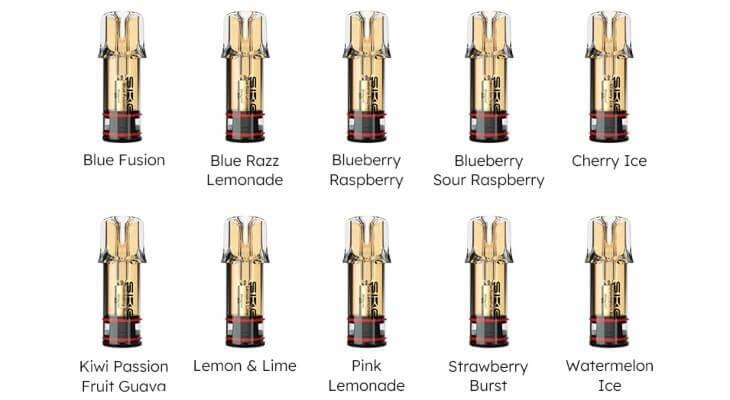 These CRYSTAL PLUS REPLACEMENT PODS are pre-filled with a variety of richly flavoured nic salts for the CRYSTAL PLUS MOD. These pods are fitted with a mesh coil matrix that increases the exposed surface area of the wicking material across the cylinder more evenly so the liquid can be vapourised more efficiently for a deeper, fuller flavour. This is a 2ml pod with a handy side-fill port fitted with a high-performance 1.1Ω coil that delivers a consistently perfect MTL inhale.
1.1Ω resistance
2ml nic salt
Meshed structure
MTL vaping
15 Flavours
The SKE Plus Pods have a meshed coil that heats the nic salt vape liquid more intensely for a fuller, richer flavour.
Flavour profiles:
Blue Fusion – Full-bodied flavour double of the world's most popular energy drink. It's an explosively fizzy mix of zingy fruits that's sure to lift you up when you find yourself dragging your feet!
Blue Razz Lemonade – A super sweet fruity treat that's the perfect mix for anyone looking for some bliss! Refreshingly sweet blue raspberries collide with gently sour lemonade for a tangy twist on the classic beverage.
Blueberry Cherry Blackberry – This is a berry special flavour mix-up of some of the richest, deepest fruity flavours you can find. On the inhale, you'll get to savour the sweetly juicy taste of refreshing blueberries and moreish blackberries with a little cherry on top for a perfect exhale.
Blueberry Raspberry – This Blueberry Raspberry is an absolute asset for all the fruit lovers out there. The collision of tangy wild raspberries and sweetly rich blueberries makes this an ideal mix for those who love a fruity-flavoured vape.
Blueberry Sour Raspberry – There's nothing that compliments something sweet more than a little bit of a tangy bite! That's why this sour raspberry mix collides with some sweet blueberries so well for a wildly vivid taste of freshly picked fruits.
Cherry Ice – Nothing short of the cherry top for those who love a chilled-out fruity taste! It's a superb mix that doesn't miss the sweetness and has a cooled finish that's perfect for all-day vaping.
Cherry Strawberry Raspberry – This Cherry Strawberry Raspberry combines three of thee greatest fruity flavours the vape industry has seen. The pleasant taste of cherry collides with the classic taste of picked strawberries and refreshing raspberries. It's a tremendously fruity taste that's nothing short of classic.
Cotton Candy Bubblegum – This is a sugar-glazed sweet candy mix of bubblegum bliss. The taste of freshly made cotton candy is pleasant present throughout and is complimented well by the moreish taste of toothful, lip-smacking bubblegum.
Fire Brew – We always knew our friends in Scotland were inventive, but this flavour really proves just how amazingly innovative they can be! What does it taste like? Well, it's up for debate, but we think it's a lightly bubbly mix of bubblegum and orange. There's only one way to find out…
Kiwi Passion Fruit Guava – Rich passionfruit mixes here with some sweetly refreshing kiwi and juicy guava for a vape that's perfect for all fruit lovers. Absolutely essential fruit cocktail vape.
Lemon & Lime – There's nothing more classic than a zesty lemon & lime twist. Lemon and lime flavours are swiftly combined here to make a juicy fruit mix that nourishes the senses with every inhale! The ideal mix that's sweetly sour in all the right ways.
Pink Lemonade – This is a truly elegant flavour that's the pitcher-perfect mix of rich and tangy. A refreshingly neutral flavour that's bound to become a favourite go-to.
Rainbow – This Rainbow mix is a total tastebud tantalizer. The combination of light citrus fruits with a sugar-glazed finish makes this a perfect profile for those who love a sweet treat that's hard to beat.
Strawberry Burst – This is a classic sweet-tasting summer berry mash-up of one of the most recognisable fruit flavours you can find. Tastes just like a freshly picked punnet of organic strawberries from the sharp inhale right through to the sweet exhale.
Watermelon Ice – One in a melon flavour! The juicy taste of watermelon is present throughout for a classically fragrant vape that's complimented well by the menthol exhale. Perfect for all-day vaping.
More Information

| | |
| --- | --- |
| Liquid Type | Nicotine Salt |
| Nicotine Strength | 20mg |
| Hardware Brand | Crystal Bar |
| Liquid Capacity | 2ml |
| Box Contents | 2 x Crystal PLUS Bar Prefilled Pod 20mg |
| Item Returns | This item can be returned |