Horizon Falcon Legend Sub-Ohm Vape Tank
Please note: Supplied tank is 2 ml capacity, as per required TPD regulations, images are for display purposes only.
FREE bulb glass included separately.
The Horizontech Falcon Legend Tank is a powerful sub-ohm, DTL vaping tank with top-filling design, bottom-to-top adjustable airflow and compatible with all ten coils within the Falcon series of dedicated DTL vaping coils.
The tank is supplied with one of each of the newly constructed, long-lasting endurable M6 and M8 mesh coils. Each coil build and its respective number of parallel mesh pieces contribute towards an enriched and embodied flavour experience, along with copious volumes of vapour production.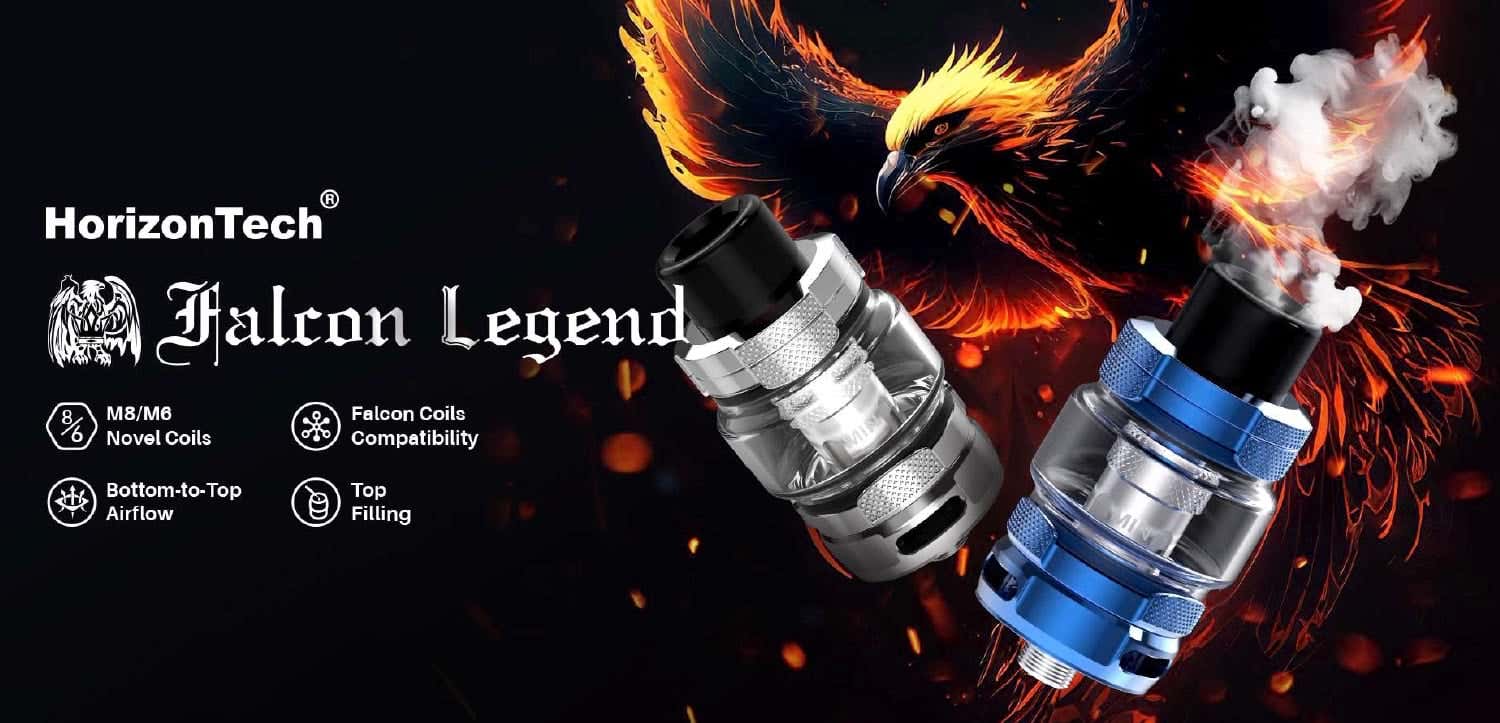 Components
The Falcon Legend tank can be fully dissembled with a series of threaded components, manufactured from the finest materials.
This powerful sub-ohm DTL tank can be filled through one of two large filling holes through the gasket located within the top of the tank, where the top cap is unscrewed and removed for access. All 10 Falcon series coils have a threaded base, which are firmly secured within the base of the tank, and effortless replaced.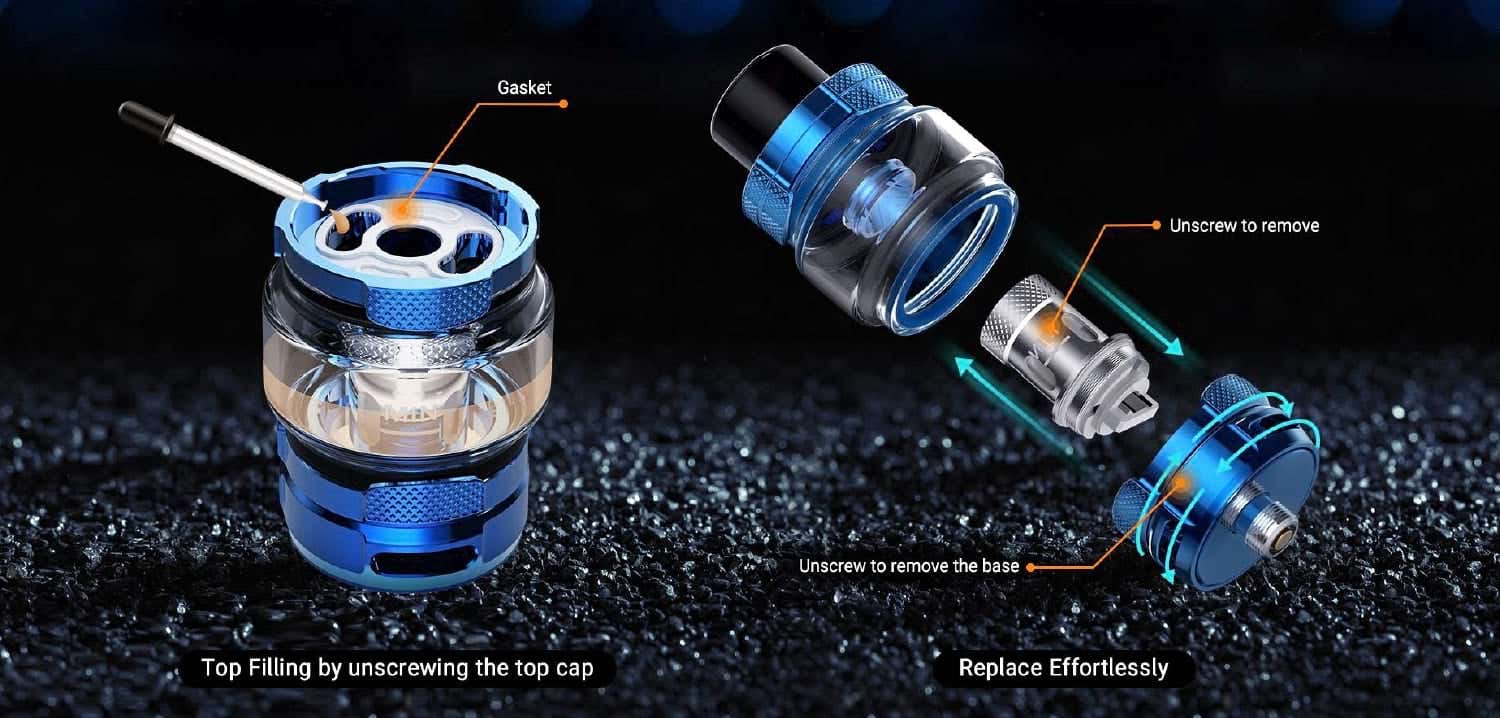 5 Colour options
Stainless Steel
Black
Gunmetal
Blue
Rainbow

Airflow
The Falcon Legend generates a powerfully flavoursome experience, with huge amounts of vapour product and excels in vaporising your vape juices to their maximum potential.
A key feature to the Legend tank is the bottom-to-top airflow circulation, which is fully adjustable to your preference of the tightness/looseness of the draw you take on inhale.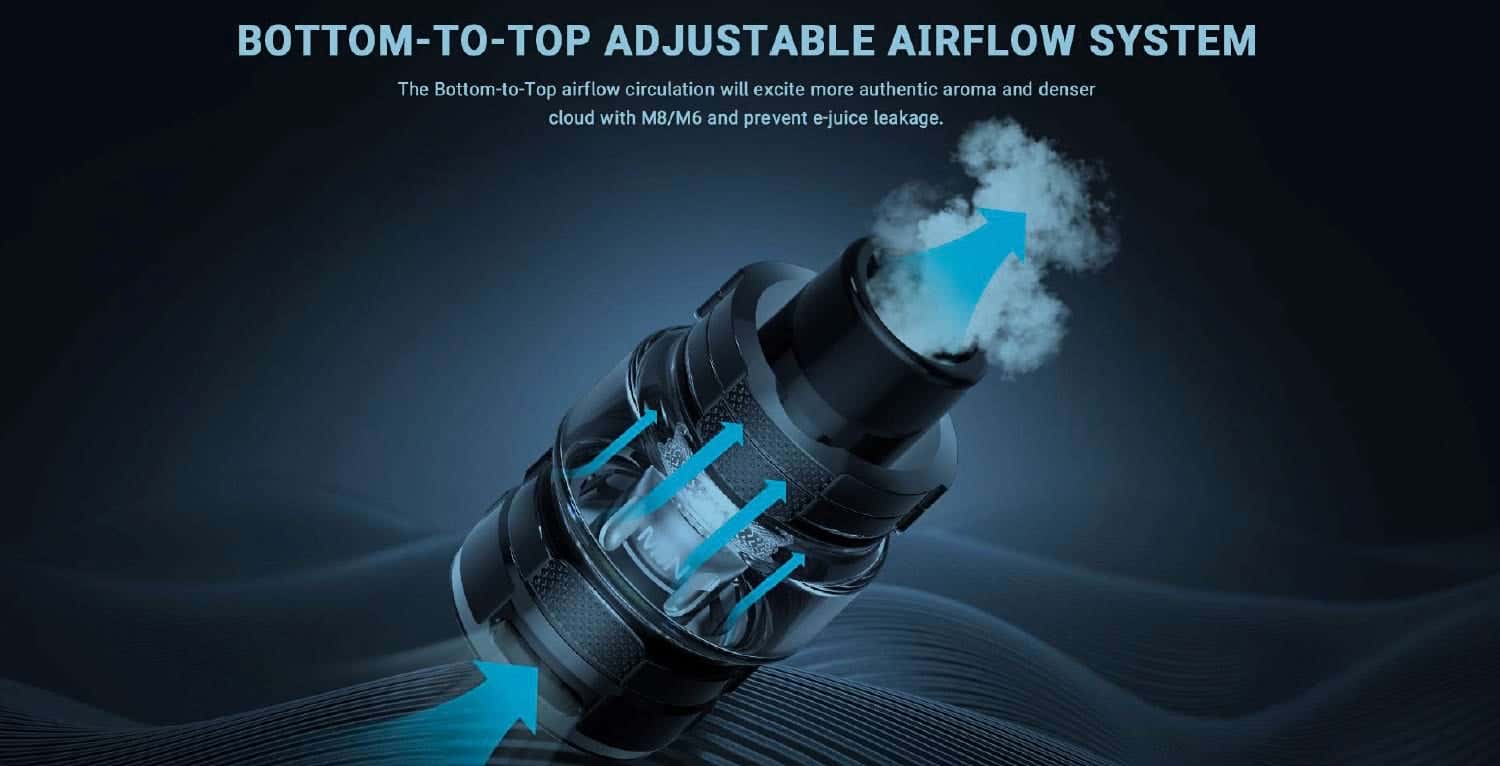 Legend
The legend of the Falcon returns, faster, stronger and longer-lasting.
The addition of the M6 and M8 coils are further improved by increasing the number of parallel mesh pieces to six and eight respectively. As a result, M6 and M8 coils are more durable and capable of encouraging the vaporisation of eliquid under persistent heat, without dry-hits and premature burn-out.
Construction
Layered bamboo pulp cotton material
Long life-span coil longevity
Smooth, consistent vapour production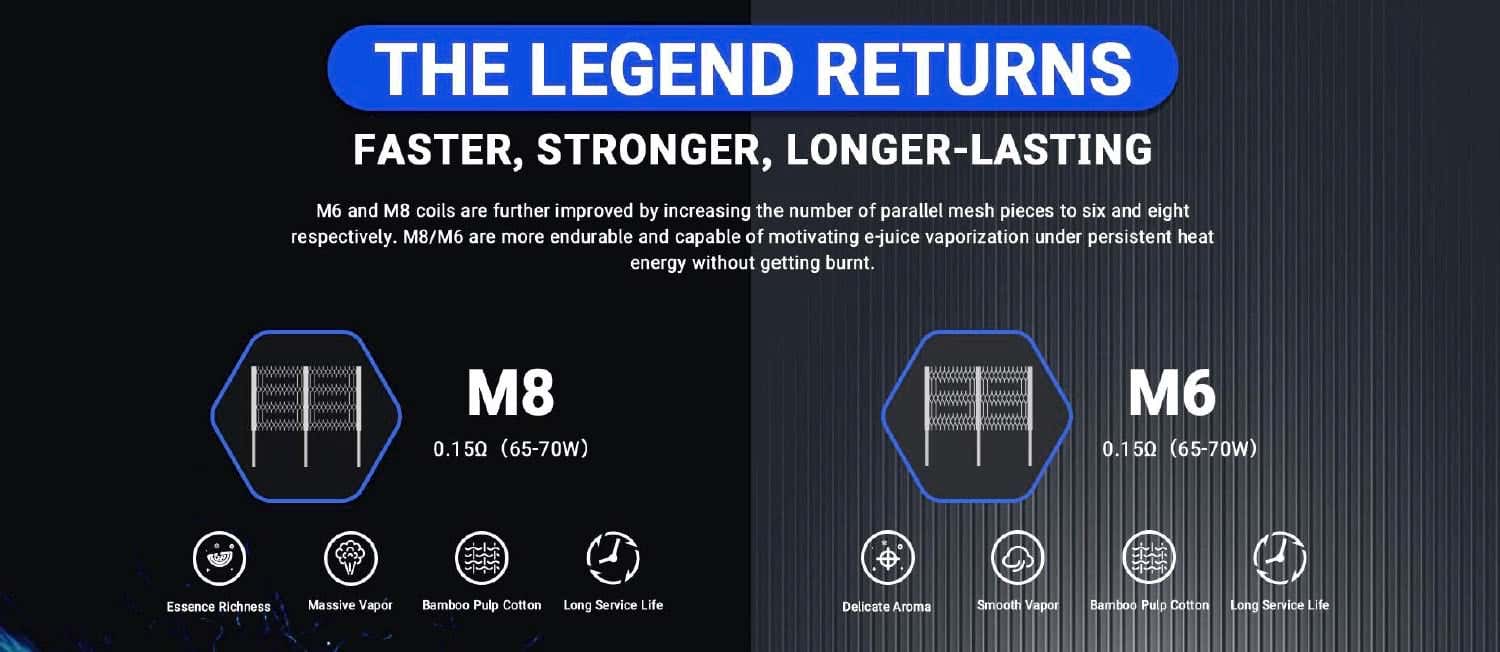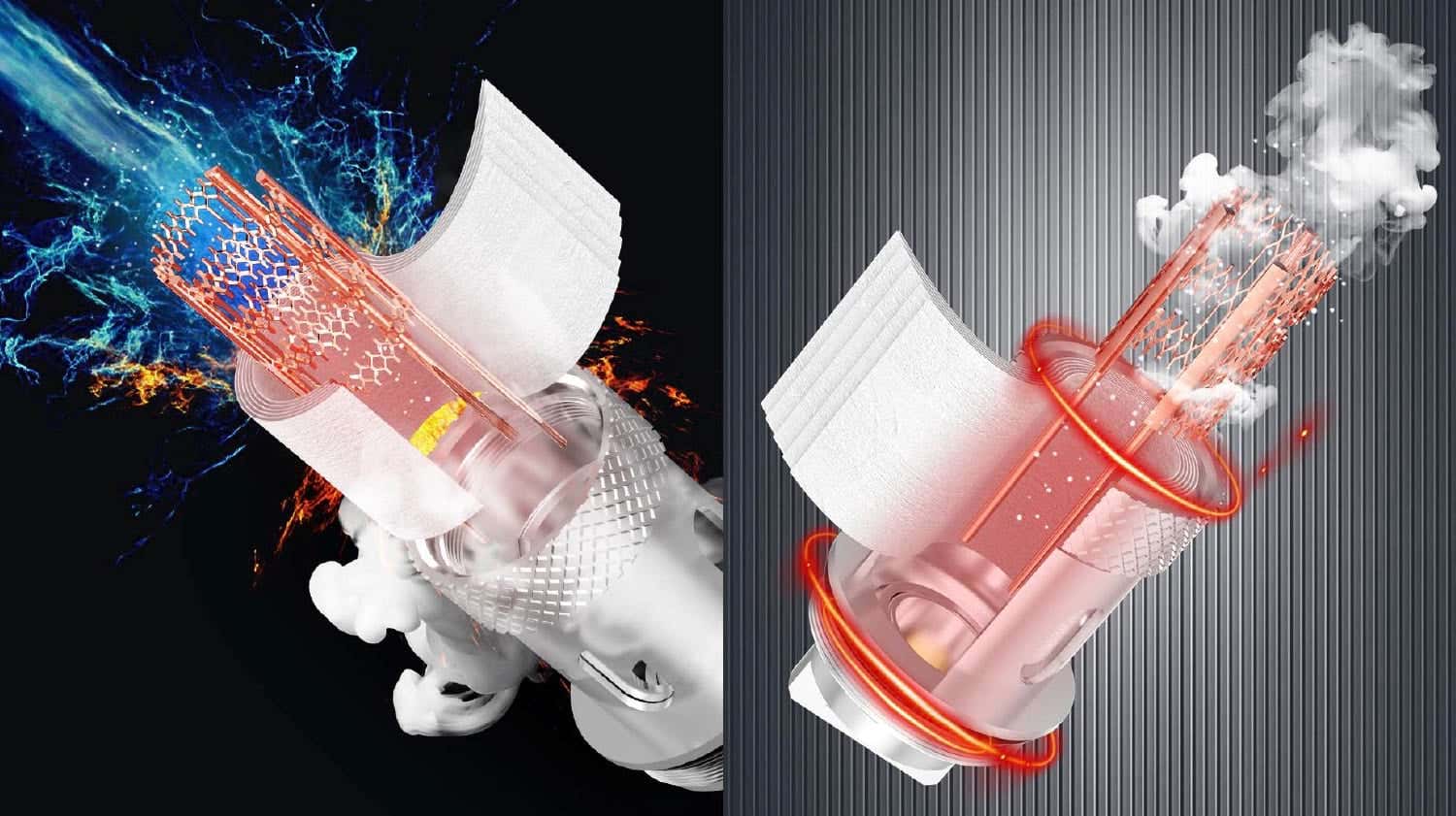 Falcon Series
The Horizon Falcon Legend tank comes complete with one of each of the M6 and M8 0.15Ω coils and is compatible with all 10 Horizon Falcon M and F series DTL coils.
Options
| | | |
| --- | --- | --- |
| Type | Resistance | Recommended Power |
| M1 | 0.15Ω | 70 – 80w |
| M2 | 0.16Ω | 70 – 80w |
| M-Triple | 0.15Ω | 80 – 85w |
| M Dual | 0.38Ω | 80w |
| M1+ | 0.16Ω | 75w |
| M6 | 0.15Ω | 65-70w |
| M8 | 0.15Ω | 65-70w |
Supplied in packs of 3.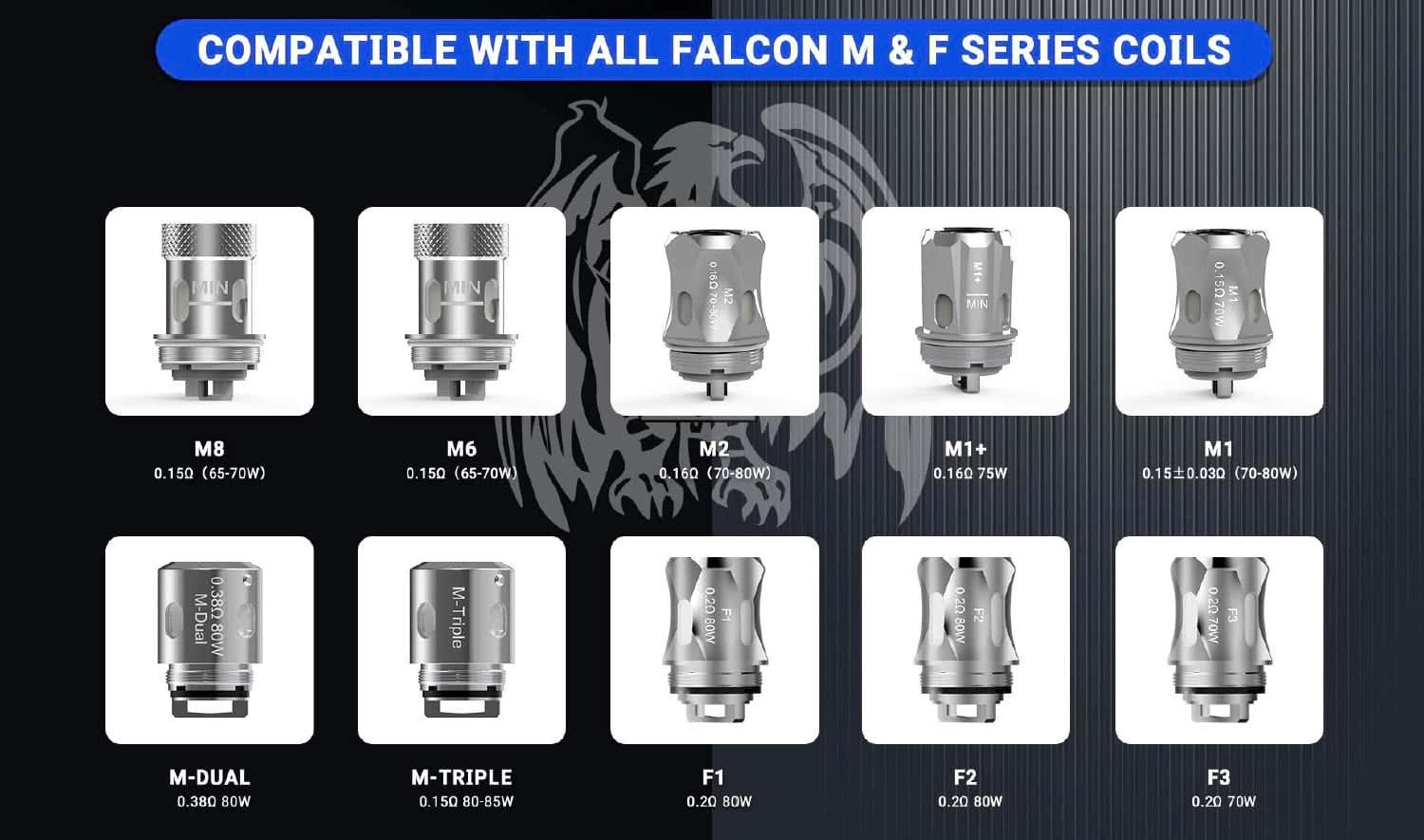 What's in the box?
1 x Falcon Legend Tank (2ml)
1 x Falcon M8 0.15Ω (65-70w) coil (Preinstalled)
1 x Falcon M6 0.15Ω (65-70w) coil (Spare)
Replacement O-rings / Gasket / User Manual
FREE Bulb Glass
Parameters

The Horizontech Falcon Legend Tank is a powerful dedicated sub-ohm, Direct to Lung Vaping Tank, recommended for use with High VG 70+ e-liquids.