Elf Bar NC600 Shisha Range Disposable Vape By Elf Bars the latest release from Elf bar in collaboration with King Of Vapes (KOV). The Elf Bar NC600 Shisha Range Disposable Vapes comes in 15 magnificent flavours and provide high quality shisha like flavours that showcase flavours that are light and fruity. Their unique range of shisha flavours are encased in the new look exterior that has a slimmer and flatter design as opposed to the standard elf bar 600 design, but with the same exceptional flavour delivery.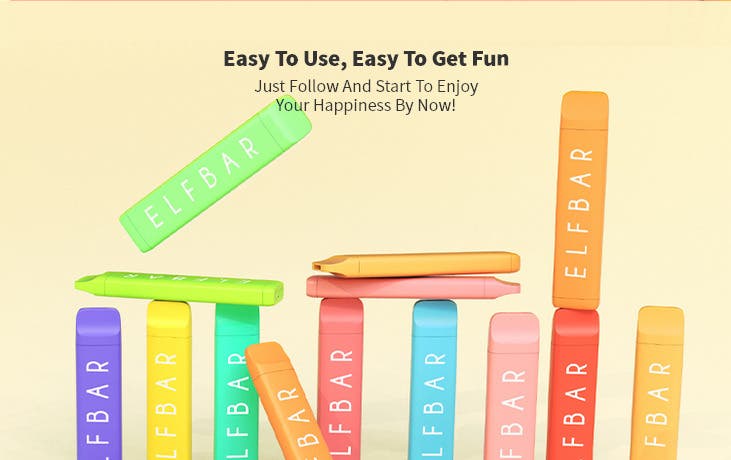 The NC600 shisha range of Elf Bar has a 600 puff capacity and comes prefilled with 2ml of nicotine salt e liquid inside that's a 50% VG and 50% PG mix. The 20mg nicotine salt content delivers flavourful vape second to none that's simple and hassle free to use. The inhale activated shisha bar is powered by a powerful and efficient 400mah battery (non rechargeable) to delivery a satisfying mouth to lung experience. With a range of fruit flavours blended with yogurt or energy drink available, they're ideal if you're looking for a sweeter vape.
The Elf Bar Shisha Range compromises of:
Apple & Berry – sweet apples combined with fruity berry flavour for a delicious summer vape
Berry Blossom – the ultimate combination of all things berry including blueberries, raspberries, strawberries and blackberries. A great mix that's perfectly balanced
Blue Razz – perfectly combines raspberries and blueberries with a shisha twist for a taste that's amazing and amongst the most popular in the range
Cola with Fizzy – is a fruity cola flavour with its fizzy notes that tastes on point and refreshing
Double Apple – the perfect combination of slightly tart green apples and sweet red apples for a juicy apple flavour finished with a touch of ice
Mango Guava – a tropical mix of sweet mangos with guava notes for a taste of the tropics
Mixed Fruit with Rose Aniseed – is a unique but tasty flavour that is complex mix of mixed fruits laced with hints of aniseed and rose water finished a icy kick.
Orange Mint – unique refreshing blend of sweet orange flavour laced with mint
Pink Grapefruit – sweet flavoured vape with notes of tartness for a tropical fruit blend that you'll love with its cool aftertaste
Rainbow Candy – sweet and juicy combination of mixed fruit candy flavour reminiscent of your favourite rainbow confectionary
Raspberry Blackcurrant – dark sweet juicy blackcurrants blended perfectly with very slightly tart raspberries flavour delivering a great tasting vape
Sweet Strawberry – refreshing and cool sweet handful of fresh sweet strawberries bursting with flavour.
Two Cherry – tart cherries combined with a little sweetness for a beautiful cherry flavour
Two Grapes – combines green and black grapes for the ultimate juicy grape flavour
Watermelon Chill – straight from the Arctic, this refreshing flavour of watermelon with its cool finish is awesome
Product Specification:
2ml E Liquid Capacity
20mg Nic Salt Nicotine Content
400 mah Internal Battery Capacity
Upto 600 Puffs vape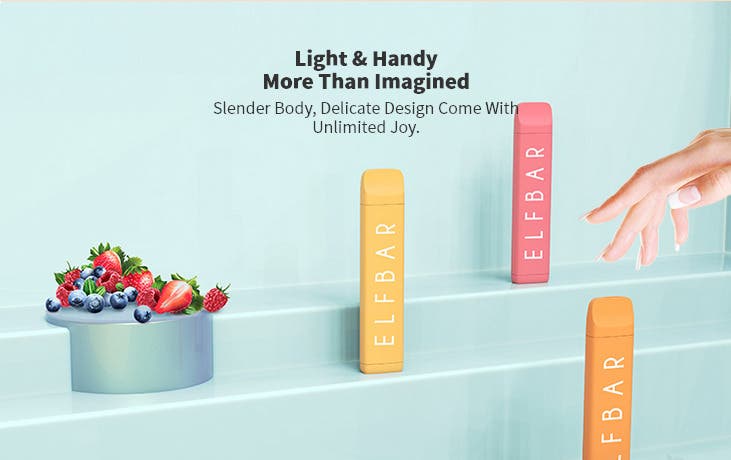 Product Contents:
1 x Elf Bar NC600 Shisha Range Disposable Vape