SKE Amare Crystal ONE Disposable Vape – 20mg
The AMARE CRYSTAL ONE DISPOSABLE POD device is one of the newest disposable devices from vaping titan, SKE. It's a crystal kit that's fitted with a mesh coil for fuller flavour and has a durable 500mAh battery that'll last longer than any other disposable out there. It's a flexible, translucent kit that'll deliver a silky hit you can enjoy anywhere, at any time of day.
2ml of 20 mg/ml nic salt for a smoother hit
500mAh battery
600 puffs
Draw-to-vape inhale
Fitted with a meshed coil that delivers a fuller flavour
Wide range of rich flavours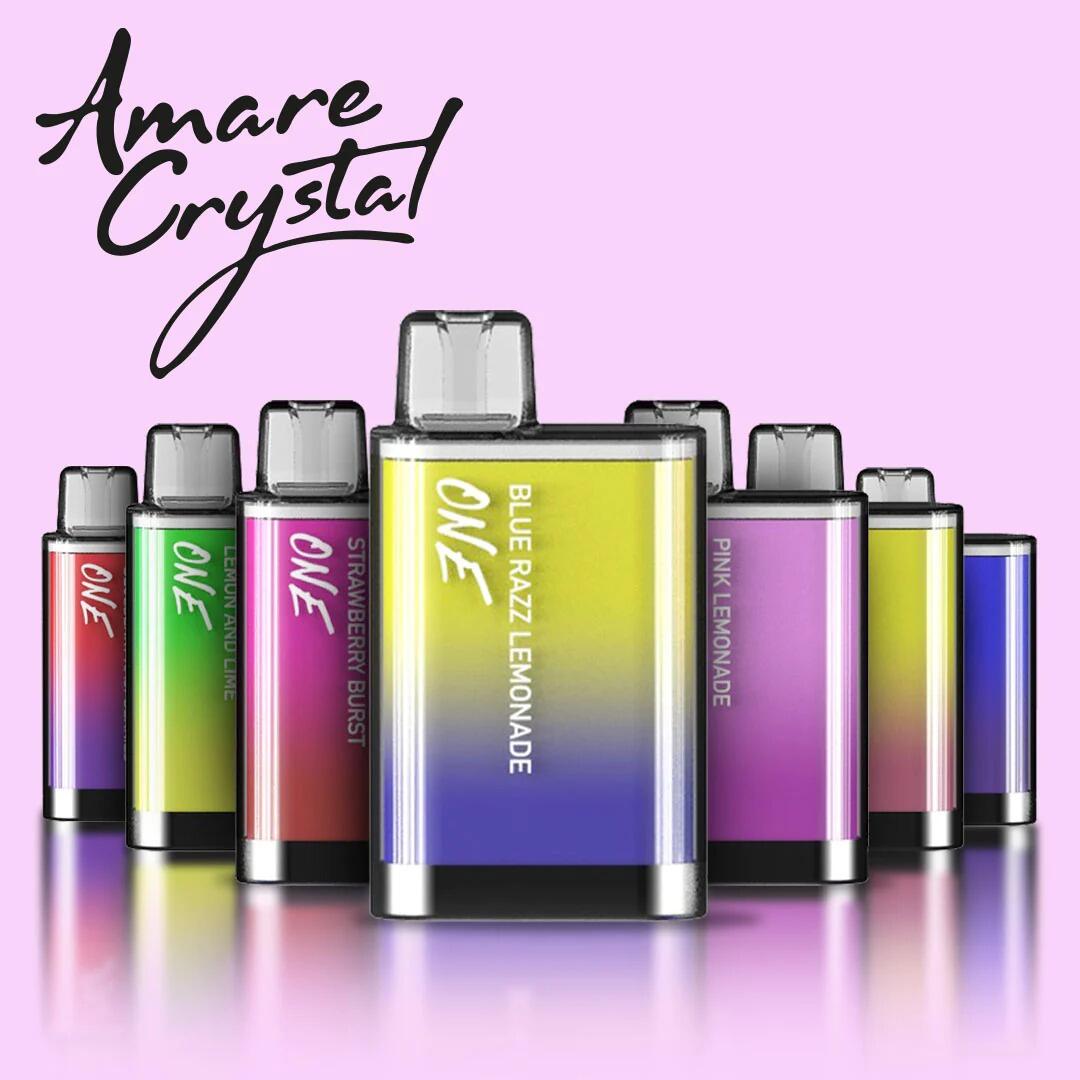 The kit is available in a plethora of flavours that are sure to deliver a insanely rich MTL inhale!
Flavour Profiles:
Blue Fusion – This profile is a fusion of Blueberry & Raspberry, making it an innovative flavour for those fans of all things sweet and sour! The juicy balance between pleasant blueberry and zesty raspberry makes this taste that's ideal for all-day vaping. Not to be missed!
Blue Razz Lemonade – This Blue Razz Lemonade flavour is a seriously delicious mix of blue raspberries and zesty lemon. Awesomely cool treat that's hard to beat in the heat!
Blue Razzle Cherry – This is a classic, pitcher-perfect mix of blueberry, cherry & raspberry. This triumvirate of flavourings come together here for a sweetly sour taste that's great for all-day vaping.
Blueberry Buzz – Amazingly sweet blueberry flavouring that just bounces on your tongue! Can be picked up and vaped anywhere. One of the best disposable flavours out there, bar none.
Blueberry Raspberries – Some juicy blueberry pairs here with wild raspberry for the ideal summer twist. Perfect for all-day vaping! Not to be missed if you're a fan of sweet and sour fruits!
Blueberry Sour Raspberry – Fruity, tangy, and moreish! Refreshing blueberry pairs with sour raspberry for a tartly twisted taste.
Cherry Ice – Zingy sweet cherries mix here with some cool menthol for a cool, icy finish. A deliciously balanced vape that's a sure-fire contender for your permanent rotation!
Cherry Peach Lemonade Fizzle –  This is a tangy & sweet fruity treat that's got a light, bubbly finish. On the inhale you'll get to enjoy the rich blend of cherry with some lush peach lemonade and on the exhale, you'll get to savour the chilled sensation of sparkling, sweetly sour carbonation. Amazingly fizzy mix-up of fruity flavours!
Crazy Blue – This Crazy Blue flavour delivers an insanely tasty blueberry blend that's finished off with a cool menthol breeze. The fruity notes collide here for an eccentrically juicy flavour you can pick up and enjoy again and again without expecting things to change…
Crystal Bull Ice – Crystal Bull Ice flavour is a fizzy drink flavour that features sweet sugary notes, blended with a refreshing ice menthol hit. Total flavour double of everyone's favourite energy drink.
Double Apple Explosion – This is a doubled-down mix of two of the sweetest & greatest varieties of freshly picked apple flavours you can find. The light blend of these two apple flavours – one sweet, one sour – go hand in hand for a taste that's truly tantalising.
Fruity Guava – Gushy juicy guava is the primary flavour here, making it the perfect exotic treat for lounging in the sun. This continental taste is hard to shake and creates some insanely fragrant vapour that's sure to garner some jealous attention from mates!
Kiwi Passion Fruit Guava- Pleasant passionfruit mixes here with some chill kiwi and delightful guava for a perfect fruit punch. Nothing short of juicy.
Lemon & Lime – The perfect taste for those who love a fresh twist with a tangy finish! Refreshing as it gets! Ideal for all-day vaping.
Luscious Lemon – This Luscious Lemon flavour is a lush, yet sharp blend of candied lemons followed by a little hint of cooling menthol.
Mango Madness – This Mango Madness profile is a crazy mash-up of one of the most moreish fruit flavours that can be found near any sunny beach. It's a ridiculously sweet treat that's insanely irresistible!
Pineapple Ice – Quench your thirst with this deliciously juicy pineapple that perfectly balances sweet and tart notes with a finish of cooling menthol for a fruity mix that shouldn't be missed.
Pink Grapefruit – This Pink Grapefruit flavour is a celebration of everything juicy. It's a sweetly sour mash-up of freshly squeezed grapefruit for a pleasantly gushy flavour you can vape anytime anywhere.
Pink Lemonade – Elegant flavouring that combines the taste of lemonade fused with juicy raspberries. It's a deliciously fruity flavour that can easily be vaped all day.
Red Apple Ice – A freshly squeezed mix of gentle red apples and icy menthol. The taste of juicy apple is sure to please and the cool finish makes this a must-have flavour!
Strawberry Burst – Classic vape flavour that delivers a stunning rich strawberry flavour on the inhale that's then accompanied by whispers of fresh citrus for a sweet and stimulating taste on that exhale.
Strawberry Kiwi – This mix of Strawberry and Kiwi is a really riveting blend of two of the freshest flavours you can find. On the first inhale expect tangy citrus notes of the fibrous kiwi with a sweet dessert-like delicate strawberry punch on the exhale. A classic flavour you can vape no end.
Sweet Peach – This is a sweet peach treat that's soft, delicate, and richly delicious. The taste of juicy peach is present throughout and delivers a consistently fresh luscious flavour for anyone sweet enough to pick one up!
Watermelon Ice – Absolutely one in a melon flavour that combines the juicy taste of watermelon with the coolness of sharp menthol. Summer weather-approved flavour that's ideal for blissful weather.
Watermelon Lemon Burst – This Watermelon Lemon Burst is a sweetly fruity treat that's pleasingly juicy on the inhale and tartly sour on the exhale. It's a succulent blend of the freshest fruits that's slightly unconventional but has all the balance you need for your next all-day vape flavour.
The kit is small, but it's got all the power you'd get from other disposable devices too!
Included in the box:
1 x SKE Amare Crystal One Disposable Vape Kit